---
HHTT'S
PRE-REWATCH MEMORYZ
I had the "wildly out of order" Dragon Ball Z experience. I only recently learned that this was common.
Pokemon was firmly the king at the time, and was on TV at times more friendly to a kindergartener than DBZ. My family never once rented a tape, so it was catch it on TV or buy it. Gambling on shows other than Pokemon to be good enough to watch repeatedly seemed risky. None of my friends ever talked about DBZ.

CLICK PIC TO WATCH IN A NEW TAB
BURGER KING TOYS - 2000

I had forgotten that this was a "Big Kids" thing until now. This tells me I must have really liked DBZ at the time: Asking for this kids' meal would have been scary to me at 4/5. I wasn't big.

I got either Gohan or Krillin and was definitely disappointed. Anybody else would have been amazing.

(If you've never had BK kids' meal chicken nuggets, they're mildly spicy, or at least they were in the 00s)
Kai's dub is the only good English version so I'm told, but I know what I want to watch. While there is no official release of the Ocean Group dubs, there are still ways to watch it, so I will yet be able to put the vague pieces together.

I'm just now realizing that I could have seen a lot more TV in general had I settled for the small TV in my room over the den's. The all-important couch gymnastics and running around the room won out.
Having been young and in the wildly out of order tribe, most of my memories are of fights in the desert with motivation I didn't catch and conversations with vocabulary I didn't know. Toonami ran ads for other amazing-looking stuff in between that may have further interfered with my ability to follow the story.

The purest enjoyment transcended language and backstory knowledge: my most coherent memory is of watching a training montage and throwing my shirt off when Goku did.
BONUS! KAMEHACON DBZ NOSTALGIA PANEL - 2019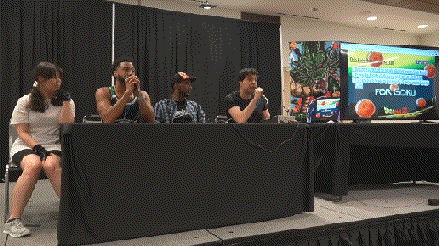 CLICK PIC TO WATCH IN A NEW TAB
Made me smile a lot. You can enjoy this with no prior exposure to DBZ.
JaxBlade (2nd from left) is one of my favorite YouTubers and deserves his own page.
In maybe 2015 I tried getting back into it proper, starting from Dragon Ball in Japanese, but lost interest nearly immediately.
The English dubs that ran on Toonami (they are separate due to contracts lapsing) aren't that accurate to the source material. Objective badness may follow from that fact, but I don't care.

6/14/2019
---